I'm always on the lookout for easy recipes that are quick to put together and cook up, while also being nutritious— a perfect workday meal. This recipe was a product of things I found in my fridge and pantry that I realised would work beautifully in a roast.
The idea is extremely simple; all you need in addition to the vegetables is olive oil, salt, pepper, rosemary and thyme. I usually make little parcels in sets of three, which I use across three lunches/dinners, so you could prepare this a day in advance even.
This is probably the simplest recipe I've posted here, as the only ingredients you need (in addition to the vegetables) are salt, pepper, olive oil, rosemary and thyme. Sometimes a little garlic and balsamic vinegar might be brought into play to enhance the flavour of broccoli or beetroot. You could also substitute butter instead of olive oil (which would work beautifully with the potatoes and corn), which would yield a richer flavour, and a beautiful burnished gold colouring on some of the veggies, but the aim here is to keep it healthy, so I only use olive oil throughout. The exception here is onion, which I usually prepare by half slicing it into six sections (you don't cut all the way to the root part, so it holds shape) and inserting a sprig of rosemary with some butter into the middle, with a gentle seasoning of salt and pepper, before wrapping it up in foil. Using butter makes a lot more sense as it slowly melts and soaks into the onion, making it super tender and delicious. You could use olive oil instead here too, but the way the rosemary soaks through the layers of the onion wouldn't be the same.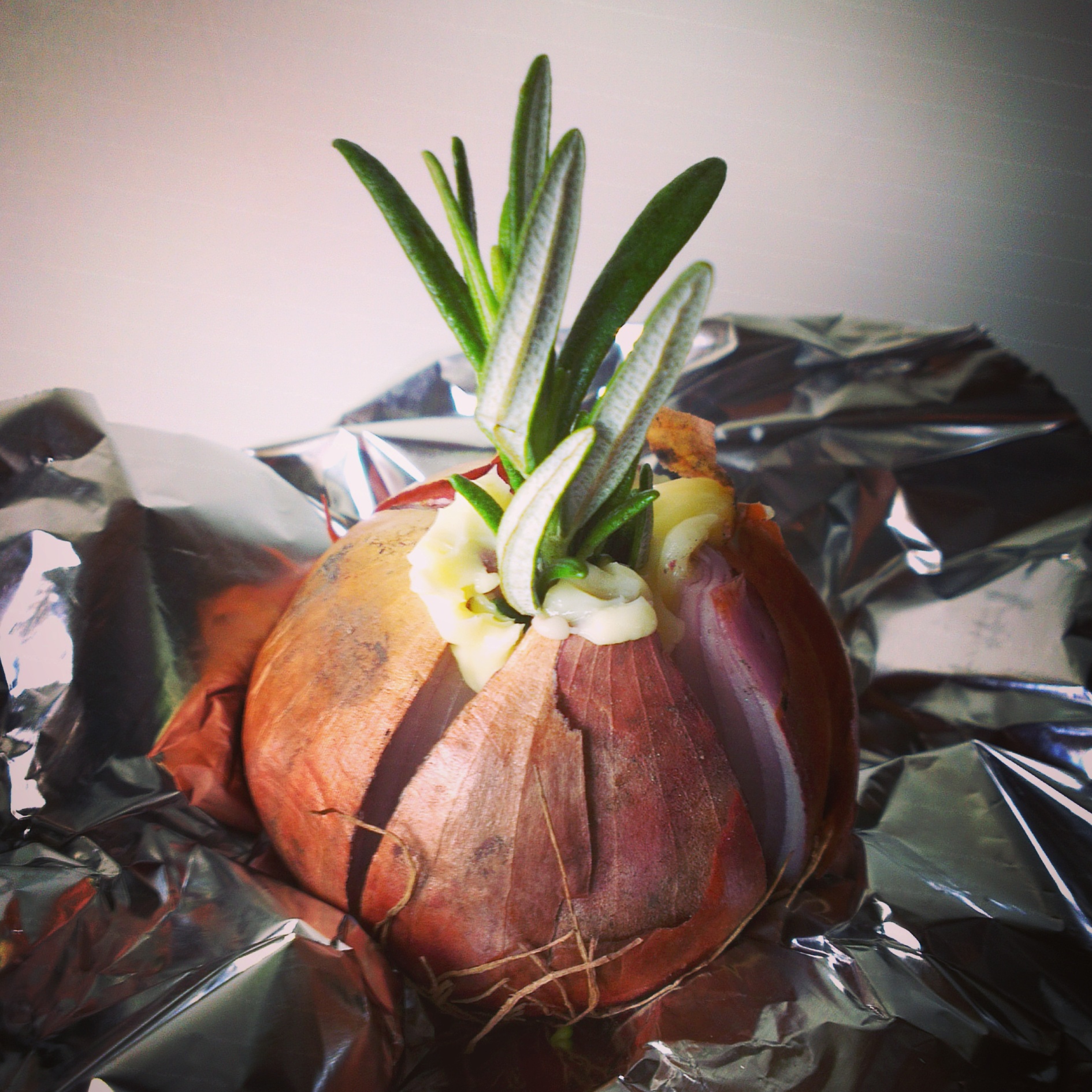 This isn't a conventional recipe post, because this is something that you could easily freestyle and experiment with random vegetables, and possibly even fruit. I used baby potatoes, carrots, celery, corn, broccoli, asparagus and onions in the last few roasts I attempted. I'll add new vegetables to this list as an when I try them out. I use baby potatoes instead of whole potatoes because their smaller size ensures that they'll be fully cooked in an hour. You could use a whole potato and cut it into smaller pieces, but this might yield a drier texture to the potato. All these vegetables (and treatments) also work beautifully for a vegan/vegetarian barbecue. I usually always have the rosemary onions and corn ready at any barbecue I participate in.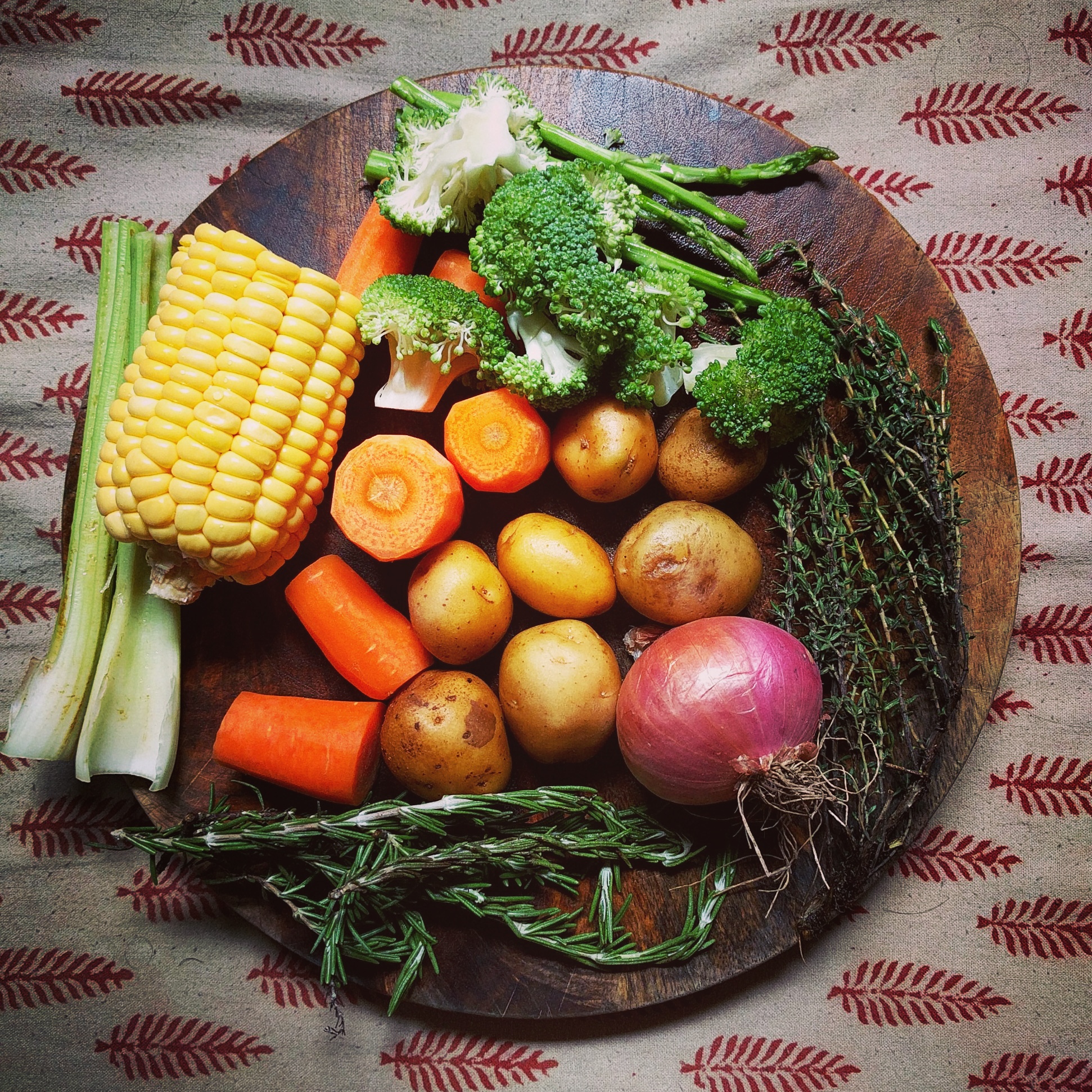 I've ordered the following recipes according to their bake times. I usually pre-heat the oven to 200ºC, and start assembly during the pre-heating phase. I usually start with the potatoes, and then the carrots and celery. As soon as the oven is nice and hot, I toss the foil-wrapped potatoes along with the carrots and celery and turn the oven timer to a full hour. Then I go about preparing the remaining components— the corn and onion first, and then the broccoli and asparagus. When the timer hits 35 minutes, I toss in the corn and onion. The final foil parcel with the broccoli and asparagus go in for the last 12 minutes of the roast.
I haven't listed quantities here, because you can choose to increase and reduce quantities as per your tastes. I use around 100g of potatoes, one small corn cob, a handful of broccoli (which also usually works out to around a 100g), around two carrots, two sticks of celery, two sticks of asparagus and one whole tomato, or a small handful of cherry tomatoes per serving.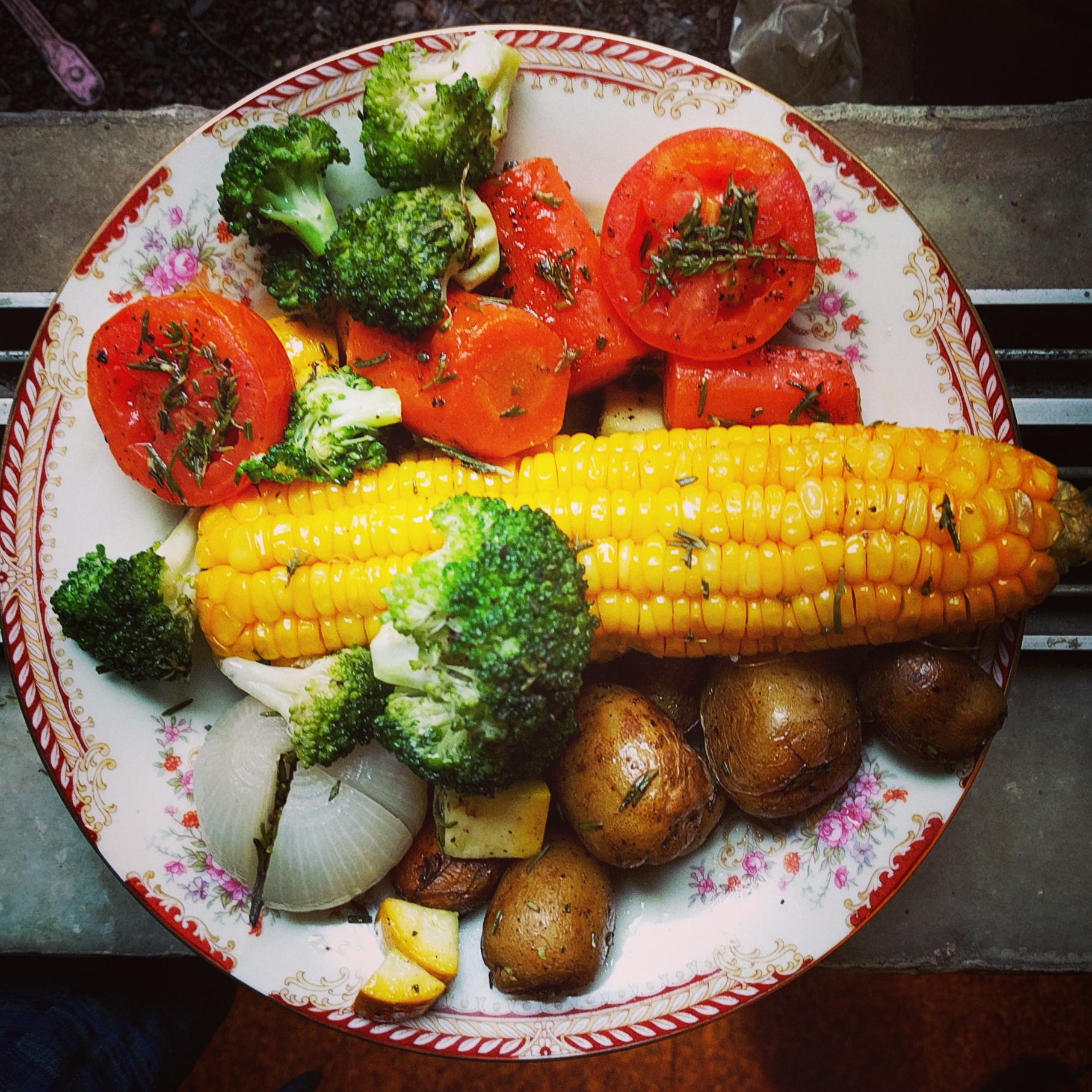 Ingredients
Baby Potatoes
Beetroot
Carrots
Celery
Corn cobs
Onions
Broccoli
Asparagus
Tomatoes (regular or cherry)
Rosemary (chopped fine)
Thyme (just the leaves)
Olive oil
Garlic
Salt
Pepper
A whole lot of foil
Balsamic vinegar
Butter (optional, non vegan)
One Hour Roasts
Pre-heat oven to 200ºC. Use a roasting pan or tray, because in some cases the foil might leak as air expands inside the parcels.
Baby Potatoes
In a bowl, drizzle and toss the potatoes with olive oil till they're shiny, and then toss them again with enough rosemary, and a little thyme (rosemary should be the dominant herb in this case) to make sure that every potato has a few bits of rosemary sticking to it. Salt to taste and pepper generously before wrapping it up in a piece of foil. Double the foil in case you're worried the oil might leak.
Beetroot (not pictured here)
Slice the beetroot into quarters, and then halve the quarters to make eighths. Toss the sliced beetroot in balsamic vinegar and olive oil, and add a clove or two of finely sliced garlic. Salt and pepper to taste, and add a few sprigs of thyme (here you can use whole sprigs). Wrap in foil and bake. You might want to serve this in a soup bowl or slightly deeper dish, as the beet tends to swim in a pool of delicious beetroot juice, olive oil and balsamic, an accidental sauce of sorts.
Carrots and celery
Chop the peeled carrots and celery into inch long pieces. toss with olive oil, salt, pepper, rosemary and thyme till evenly coated and wrap up tight with foil
35 minute roasts
Corn
Snap the corn into threes (or halves, in case the cob is small). Sit the corn in a square of foil and drizzle with olive oil. Rub to cover the cob evenly, before drizzling rosemary, thyme, salt and pepper evenly across the surface of the cob. Wrap the foil around it and squeeze to iron out any air pockets.
You can choose to slice a lemon and stick a piece to the circular face of the corn cob before wrapping it in the foil. This infuses the corn with a lemony flavour, though there can be a hint of bitterness to it, because of the excessive heat. Alternatively, you could squeeze some lime over the corn after it roasts.
Onion
(Refer to the picture above, you can peel the onion, or choose not to, depending on how confident you are on the health of your onions). Slice the onion ¾ths through to the root in six sections. Slip in a sprig of rosemary with a pat of butter and wrap up with foil.
12 minute roasts
Broccoli and Asparagus
Wash and chop the broccoli into little bite sized florets. Chop the asparagus into two inch pieces. Slice up around two fat cloves of garlic (per serving). Toss with olive oil, salt, pepper, rosemary and thyme and wrap up with foil.
Cherry tomatoes, or regular tomatoes
If you're using whole tomatoes, slice them in half along their middle, and drizzle the cut face of the tomato with salt, pepper, rosemary, thyme and a little olive oil. Cut a small square of foil, press it to the cut face of the tomato and wrap it whole.
If you're using cherry tomatoes, just toss them up with olive oil, salt, pepper and rosemary before wrapping them up in a foil parcel.