Today, Magic Marinade turns four. I decided to commemorate this with a redesign of the entire site, and a special dessert that has been a long time in the making. The first time I attempted this, I over-whisked the mascarpone (the recipe wasn't a good one, I shouldn't have been whisking the mascarpone by itself at all) and ended up splitting it. Unused to such massive culinary disasters, I benched the idea of a second attempt indefinitely.
The first Tiramisu I'd ever had was during my college days in Ahmedabad. We used to visit a little restaurant called Cafe Upper Crust for an occasional sweet treat (chocolate éclairs, lemon tarts, black forest pastries, Devil's Food, to name a few). Their Tiramisu used to be served in little foil containers with a crunchy layer of butterscotch at the bottom. Butterscotch isn't a traditional part of an authentic Tiramisu, but the nostalgia of my first Tiramisu experience made me want to attempt my own version with it.
Another more traditional component of a Tiramisu are Ladyfingers, or savoiardi (or sponge fingers), which are light spongy biscuits made with eggs, sugar and flour. These are usually quite freely available abroad, though not so much in India. The only option this left was to make it myself, which wasn't that complicated a task, because the recipe itself is quite simple. I figured there's no reason I really need to bake them as ladyfingers, but could instead bake them in a ramekin for a more snug layer fit.
I decided to follow an approach similar to another Italian biscuit-snack, biscotti, by slicing the cake-lets into discs and then baking them a second time to dry them out into a more dry, biscuity texture. This worked quite well, and I'm sure the extra browning and caramelisation on the surface of the biscuit discs only added to their flavour.
The next step was to pick the right alcohol to give this dessert its boozy kick. Marsala wine would have been the authentic option, but it's next to impossible to source locally, so I settled on regular, local, Old Monk. This is no consolation version though, the pairing of coffee and rum is pretty fantastic in its own right.
I might have ended up over-soaking the the first biscuit for the sake of taking the picture you see above. The first ramekin of Tiramisu was the drunkest, booziest one thanks to this. You actually only need to dip each side in the coffee-rum solution for a bit before layering it in. Over time, the liquids will soak through the biscuit layer and eventually percolate into the mascarpone too, which is why these are best consumed the next day— a true test of patience, but it does pay off in the end.
The butterscotch layer was also a pleasant surprise, because it's sweet-bitter crunch balanced beautifully with the unctuous light sweetness of the coffee-mascarpone layers.
This experiment turned out to be a greater success than I expected it to be, the results completely justified all the effort in making the biscuit layers. A Tiramisu is usually a quickly put together sort of dessert, and this version is a little painstaking with all the extra steps in making the biscuit layers, but it's completely worth the effort. Yes, you could bake the entire thing in a single layer in a large tray and then use a circle cutter to cut the discs out, but you'd end up with a whole lot of unnecessary wastage and off bits. This way, pretty much every last bit of the cake-biscuit bit gets used up through the whole dessert.
Tiramisu translates to 'pick me up' in Italian, and it completely lives up to its name. The double kick of coffee and alcohol, coupled with the fact that in spite of being a rather decadent dessert, it's also rather light and not quite completely fat soaked (there's no butter in a regular Tiramisu, not counting the butterscotch, and most of the richness comes from the mascarpone, which is the most decadent component of this concoction) dessert.
It really isn't a fancy dessert that you'd only expect at a restaurant, or would need a great degree of skill to pull off. If you're a big fan of the Tiramisu (and I know a lot of you are), this is a reason you should definitely have a go at making it yourself!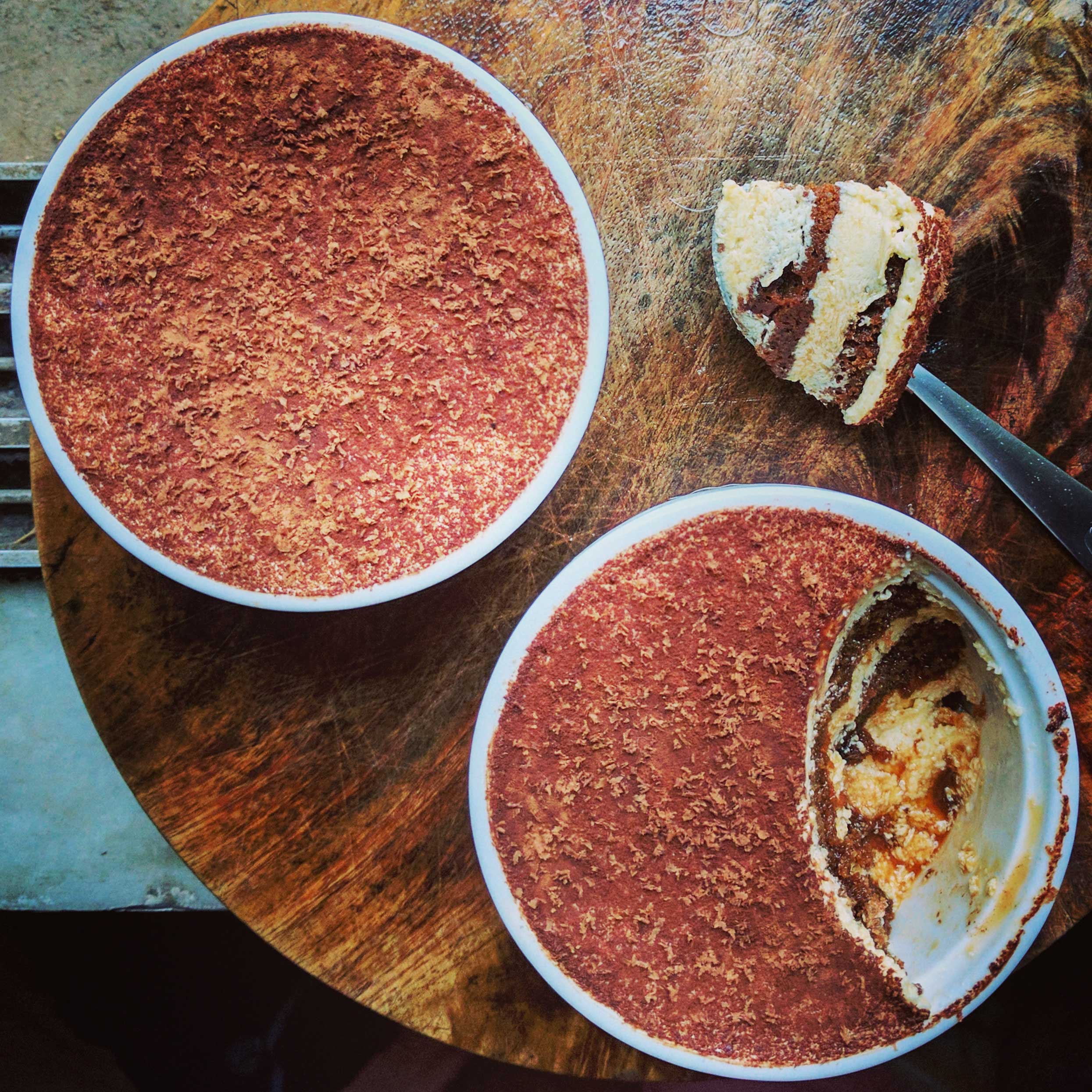 A small announcement
I've started writing a cookbook! Over the course of these four years of Magic Marinade, I've gone from making recipes I've found online to writing my own. Most of the things I cook up these days are made from original recipes— I suppose once you start doing a whole lot of any skill or ability, it becomes easier to improvise, experiment, interpret and invent.
The cookbook is a proof of concept in some ways, an intersection of the two universes that I belong to— design and food. Putting things down in print makes this whole process seem less ephemeral, and the medium of print allows for an even greater range in experimentations with ways to communicate and distribute recipes and ideas.
Of course, self-publishing is a tedious and expensive endeavour, and it'll be a few months until I'm ready to publish and distribute, but I thought I'd let you, my handful of readers here know first. Watch this space for updates, and I'm sure to put things up on Instagram as and when things move further.
Until then, this little recipe is my way of saying thank you for sticking around, and if you're new here, welcome! Follow me on Instagram, Twitter or Facebook for more regular updates as to what I'm up to (in that order of frequency).
| | | | | | |
| --- | --- | --- | --- | --- | --- |
| Bake time | 50 minutes | | Contains eggs | | 5 servings |
| Prep time | 60 min assembly, overnight rest | | Decadent | | Intermediate |
| | | | | | |
Ingredients
For the cake-biscuit layer
2 eggs, separated
30+30g sugar
1tsp vanilla extract
40g maida
For the almond butterscotch
100g brown sugar
10g butter
20g roasted almonds
For the Mascarpone filling
4 eggs, separated
400g mascarpone
2tsp vanilla
30+30g powdered sugar
160ml espresso
2tbsp rum/brandy/Marsala wine
2tsp cocoa
1 small piece of very dark chocolate
Method
To make the biscuit-cake layer
Whisk the two yolks with 30g of the powdered sugar until very pale and light.
Whisk in the vanilla extract, and then sift in the maida, incorporating carefully without overmixing.
Pre-heat the oven to 200ºC and butter and line two 4″ ramekins with baking paper.
Whisk the two egg whites to soft peaks and then slowly start adding the remaining 30g of powdered sugar until the egg whites turn stiff and glossy.
Mix about a third of the egg whites into the pale-yolk-flour mixture to thin it a little.
Fold the remaining egg whites into this mixture till evenly incorporated.
Divide the mixture between the two ramekins and bake at 200ºC for fifteen minutes, and then reduce the oven temperature to 150ºC and bake for another 15 minutes.
Let this cool for at least an hour, before carefully slicing each cake into five equal discs (the domed top part would usually itself be the first of the five).
Lay these flat on a sheet of foil and bake at 150ºC for ten minutes on each side, until they dry out.
To make the almond butterscotch
Melt the brown sugar and butter in a non stick skillet or pan until all the crystals melt into liquid.
Chop up the toasted almonds (you can roast them by putting them in an oven at 150ºC for ten to fifteen minutes, or until the almonds just start to crack) and stir into the sugar.
Pour on a non stick mat or baking paper and let cool.
Once cooled and hardened, chop or smash into little pieces in a mortar and pestle.
To make the mascarpone filling
Make sure all the ingredients (especially the mascarpone) are at room temperature. Let them sit for an hour or so outside if they've been in the fridge.
Whisk the four egg yolks along with the first 30g powdered sugar in a double boiler (bowl set over simmering water) until the yolks turn very pale and thicken. It should reach a ribbon stage, where if you dribbled some of the yolk-sugar mix onto itself, it'd stay for a second on the surface before melting in.
Add the softened mascarpone and vanilla and gently mix in. Do not overmix, there is a chance it might split if you do so.
Whisk the egg whites to soft peaks and then add the remaining 30g of sugar and whisk until glossy and stiff.
Add a third of the whisked whites into the mascarpone mix to lighten it and then fold in the remaining whites until just incorporated.
Final Assembly
Spoon in a thin layer of the mascarpone mix at the bottom of the ramekins. Sprinkle this layer generously with the butterscotch prepared earlier.
In a saucer, mix the coffee and rum.
Dip the biscuit discs into the coffee-rum solution (in quick movements, don't let it sit in the mixture and soak all the liquid in).
Layer this over the mascarpone butterscotch layer.
Repeat with another layer of mascarpone followed by another coffee-rum dipped biscuit layer. You could also grate some chocolate between layers if you so please.
Add the final layer of mascarpone and use an offset spatula or knife to smooth and flatten the top.
Cover with shrink wrap and let sit overnight for the flavours to mingle.
When you're ready to serve, dust the tops of the Tiramisu with cocoa until evenly covered.
Using a grater or a microplaner, grate a little dark chocolate on the cocoa layer.