Many recipes (especially custards and lemon tarts) call for the use of multiple yolks, but most of these recipes aren't thought through completely, and end up with large amounts of egg white that mostly have to be thrown away. Some people make egg white omelettes out of them, others find different uses, from thickening corn soup (Indian restaurant style), egg washes or even face masks.

If you're looking to make something delicious, you could make a chocolate soufflé, or the more savoury spicy corn soufflé.
One of the simplest things to do with egg whites though, is to turn them into meringue. Meringue is a slow-baked and dehydrated egg white and sugar mix, that goes beautifully as a crunchy topping to lemon tarts or can be turned into chocolate chip meringue cookies.
I've made meringue more than once, and have possibly come across a whole bunch of issues and complications while putting together this otherwise very simple preparation.
The problems with meringue (and their solutions)
Sweaty Meringue: This usually happens when the sugar isn't properly dissolved. Sugar is hydrophilic, so it draws water around it, so larger crystals of it suck out the moisture from inside the meringue and bring it to the surface. Solution: whisk better. Making sure the sugar is completely dissolved reduces the crystal size of the sugar and cuts down the possibility of it sweating.
Flaccid Meringue: Sometimes the meringue collapses upon itself when its taken out of the oven. This usually happens when the meringue hasn't been baked long enough and has a lot of moisture within it. The internal structure isn't strong enough to maintain its shape, and very quickly it turns soft and collapses. Solution: bake longer. Though this can lead to the next problem, of
Burnt Bottoms: Because of the long bake time, sometimes heat from the tray or direct heat from the heating element can burn the bottoms of the meringue, well before it is ready. Solution: a tray placed under the meringue to deflect the heat. Also, using only the lower element makes sure it doesn't get any direct heat— over time the oven heats evenly and the meringue bakes without burning. The upper element should be turned on only if you want to colour and brown the tips of the meringue.
Egg whites don't hold shape: Sometimes (especially for the novice hand-whisker), between whisking breaks, the egg whites liquefy and don't hold shape. Usually continuous whisking would make sure it holds form, but you might have to let the meringue sit if you're baking it in two batches in a small oven. Solution: Cream of Tartar. A pinch of this in the beginning (along with salt, which also helps stabilise the egg whites) will make sure it stays in shape without collapsing.
Meringue, when made well, should have a snap to it. It should practically explode in your hands when you try to snap it in two. It has to be light, almost completely dry and shouldn't be very coloured (unless you think this is meringue racism). The lower the temperature you bake the meringue at, the lighter it'll come out, though you'll also have to bake it for a longer time (up to three hours). The lowest temperature setting in my oven is 100ºC, so I've suggested that as the temperature to bake the meringue at.
Also, in order for the water in the egg whites to evaporate, I believe it would need to be baked at 100ºC to do a proper job of it. A fan-forced oven might work better at a lower temperature too, but this is something you should try if you  have an oven with that function (and tell me, so I can update this section). A dehydrator would also work, but I'm not sure how exactly that works.
Meringue is one of the easiest things to bake, with just two major components to it. Bombay's humid air isn't very kind to meringue, which does better in dry conditions. The humidity in the air makes the meringue sticky and chewy over time, but you could avoid this if you keep it stored in an air tight container or consume it right after baking it.
It's also a good starter experiment if you're taking your first steps with baking. You really can't mess up too wildly, and even if you do, you'll know how to do it better the next time around. I've made a little diagram that encapsulates the basics of the process within it: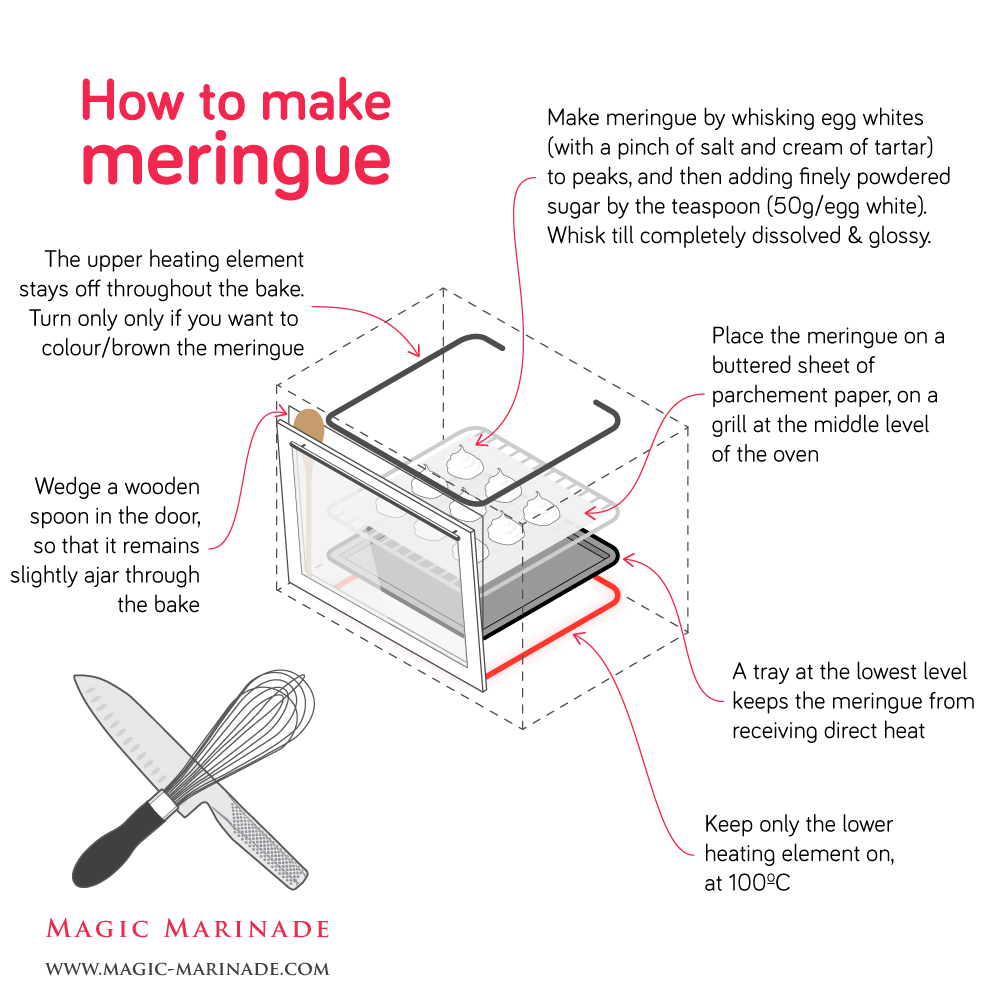 Ingredients
2 egg whites
100g finely powdered sugar
1pinch salt
1pinch Cream of Tartar
Method
Whisk the egg whites in a metal or glass bowl, with the salt and Cream of Tartar till stiff peaks form.
Start adding in the sugar, teaspoon by teaspoon and keep whisking till all the sugar is dissolved.
Rub some of the whisked meringue between fingers to check if the sugar is dissolved. If it feels grainy, whisk some more. The meringue should be glossy and thick by the end of the whisking.
Pre-heat the oven to 100ºC. Place a tray on the lowest shelf
Butter a parchment paper. Transfer the meringue into a piping bag and pipe onto the parchment paper.
Put the parchment paper onto the grill tray of your oven and place it inside on the middle level.
Wedge a wooden spoon in the door of your oven to keep it slightly ajar through the bake.
Bake for 100 minutes.
Leave the meringue in the oven for an hour once done baking.
Store in an airtight container and consume within four or five days.