My earliest memory of choux pastry is from college. We used to order up éclairs, because as impoverished students, the moderately priced chocolate éclair was just about within budget. The lightness of the pastry convinced me quite early that to make this would be an act of great skill and workmanship.At some point much later in my culinary miseducation I was told that the pastry used to make the body of those éclairs was in fact called choux. This was of course, in conversation, so for the longest time I thought choux pastry was in fact shoe pastry, because well, those éclairs did look like the sort of shoes a cartoon character might wear. Goofy, in fact.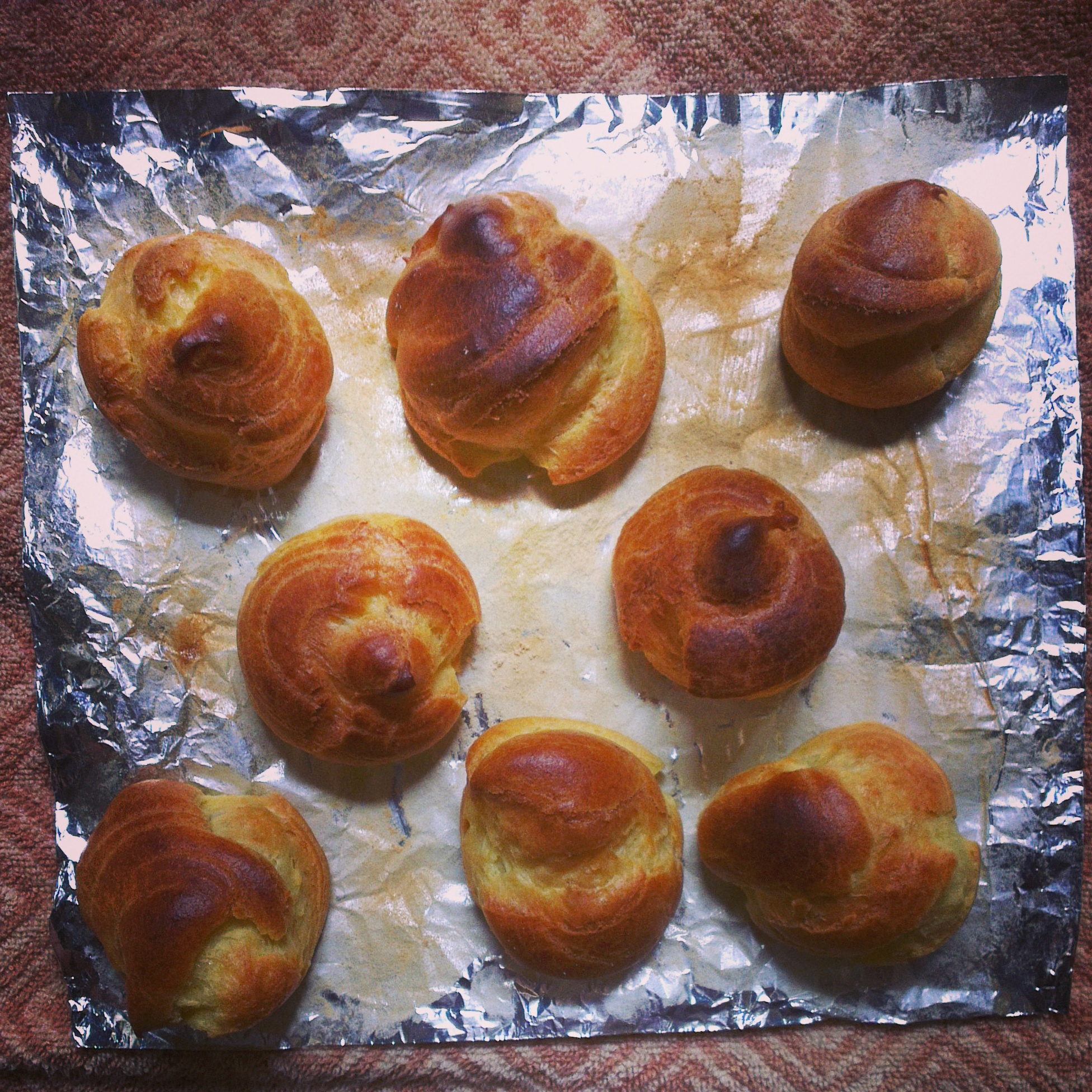 It took some time till I read about it and put two and two together, and only recently did I see it being made on tv, where I realised that I could totally make that. In fact it just about takes six ingredients (actually just four major ingredients, flour, butter, sugar and eggs, if you don't count water and salt as major ingredients) and a dash of wrist action and arm strength (because the dough gets pretty thick at one point and you have to whisk right through it) to get it right.
The traditional thing to do would have been to re-create a chocolate profiterole, like the good old college days, but whipped cream isn't that easy to come by on the side of town that I live in, and also, I wouldn't want to sabotage the discipline of my current fitness regime (more on that in a future post) that badly.
So I decided to make a lemon profiterole, a cousin of that other favourite of mine, the lemon tart. The lemon cremé patisserie recipe is a pretty simple one, it rose up like a soufflé when I cooked it, which was nice. The amazing thing about it is that it barely uses much lemon, just the zest to give the cremé a lemony aroma, but it still carries a delicate yet strong flavour of lemons.

This recipe for the lemon cremé patissiere is quite a simple recipe that uses egg yolks, yoghurt, cream and milk. The yoghurt gives it a slightly grainy consistency, so I probably wouldn't use this in a tart. It works great with the choux shells though.
This recipe took about two hours in all to execute (including baking the choux in two batches thanks to the size of my oven). I did bake the cremé patissiere first, because I wanted it ready and chilled as soon as the profiteroles were ready. You can do it in whichever way makes more sense to your way of doing things.
Ingredients
For the choux pastry
¾ cup water
50g butter
87.5g maida (if using all purpose flour reduce the water to half a cup)
1½ teaspoon sugar (5g)
2 eggs
A pinch of salt
Yields around 12-13 profiteroles.
For the Cremé Patissiere
2 yolks
20g sugar
¼ cup yogurt
¼ cup milk
½ cup cream
zest of a lemon
Method
For the Choux Pastry:
In a saucepan with a heavy bottom, add the water, butter and sugar and bring to a boil and then take off the heat.
Sift the flour and add it all at once into the water and mix with a wooden spoon. The dough will suddenly come together, so you might want to shift to a whisk if that's more comfortable.
Put it back on the heat and cook for a while till the batter starts to come off the sides of the pan (it'll come together well).
Let this cool; you could keep whisking the steam out till you can handle the saucepan without hurting yourself. At this point, preheat your oven to 200ºC.
Add one egg and whisk till evenly incorporated. Add the second egg only after the first one is completely incorporated. Whisk till absolutely even. The batter should be thick and glossy.
Pipe onto a baking sheet or piece of foil buttered and dusted with flour. The piping technique is quite easy, you press the tip of your piping bag down to the sheet and squeeze out as much batter as you want, pulling the tip upwards once your done. Flatten out the pointy tip with a wet finger (else it'll burn and get a little too crispy there).
Bake for 25 minutes. Keep them in the oven for another five if you prefer it on the drier side.
For the Lemon Cremé Patissiere:
Wash the saucepan out (or a different one if you have many) and pour in the milk, cream and 10g of the sugar.
Whisk the remaining sugar with the yolks. Once it becomes nice and light, whisk in the yoghurt.
Let the milk, cream and sugar mix come to a boil. Let it cool, before whisking it into the egg yolk mix. Do this a tiny bit at a time, just to be sure the eggs don't scramble if the milk hasn't cooled enough. Don't be in a hurry though. Wait till it cools. Reduce the oven's heat to 190ºC and let it preheat.
Transfer into a buttered 4″ ramekin (or bigger, it comes pretty much to the brim of a 4″ ramekin) and bake it for about 35-40 minutes.
Cool in the fridge and transfer to a piping bag.
Assembly:
Make cuts on the side of the profiteroles using a small knife.
Pipe the lemon cremé patissiere in through these slits. Don't let it overflow, just enough to feel the weight of the profiterole increase in your hand.
Serve, sooner the better.