Spaghetti aglio e olio is one of my lazy day staples. If you're quick and careful, you can easily put this together in just around 13 minutes. Traditionally, spaghetti aglio e olio is meant to be a celebration of the quality of the best olive oil money can buy, but when I make it (with my imported brand of olive oil of questionable repute), I also throw in some mushrooms to up the nutritive value of the dish.
I sometimes also use this as a base recipe to make quick little additions to, depending on what I have in my fridge. I've added everything from sardines to broccoli and roast chicken (as shown off below) to this recipe. You should do the same, try adding one or two new ingredients as per your own tastes and see how it works out. Just because it's a pasta does not mean that there has to be a red or white sauce. Here's to a new world order.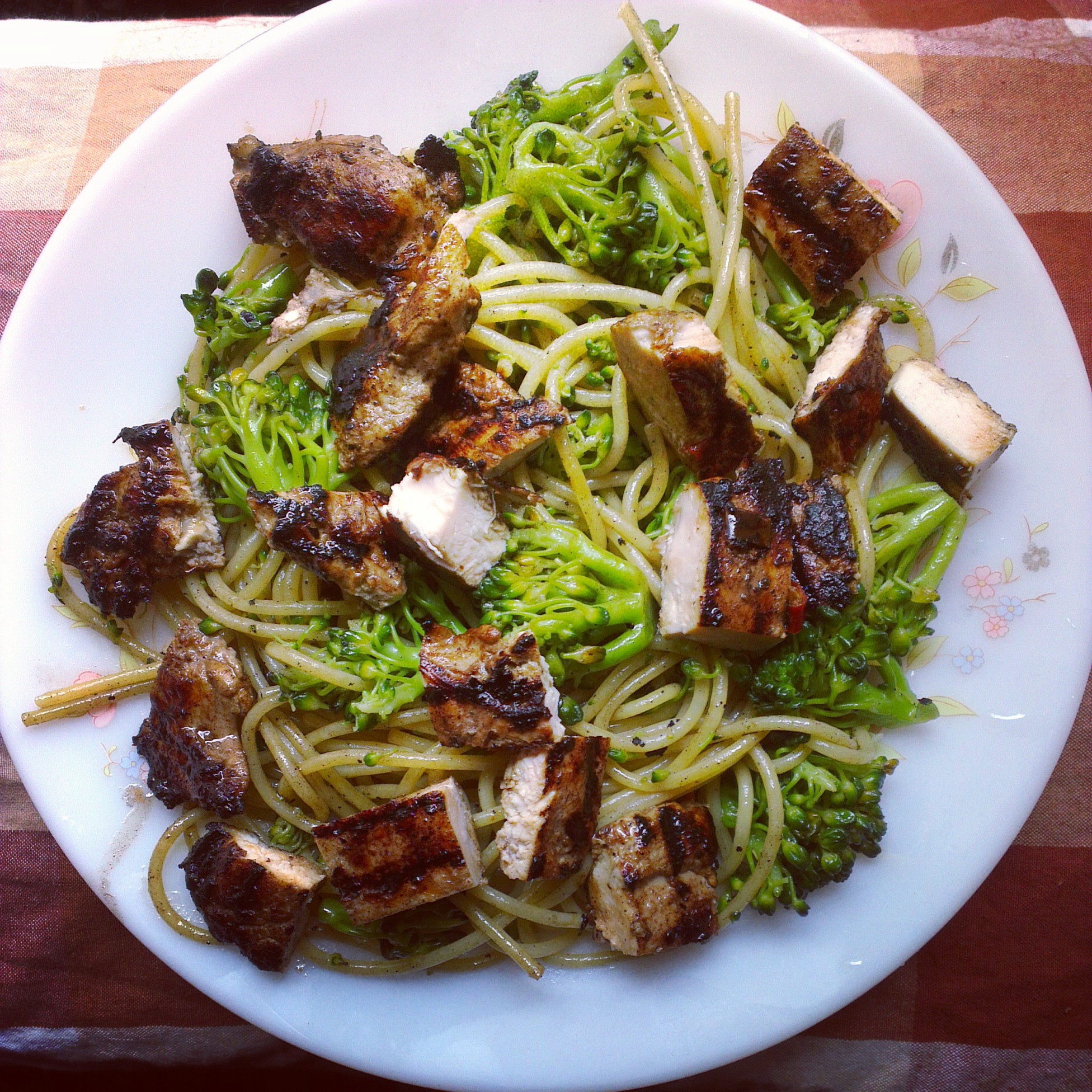 The quality of the garlic and how you process it also makes a big difference. I like slicing my garlic thin with a very very sharp knife. The sharp knife makes sure you don't end up wasting any garlic juice on your cutting board (something that also happens with graters and mincers). Or you can do it Paulie's way with a razor-blade. Mind your fingers.
This should serve as a well rounded primer into the basics of Italian cooking, with Jamie Oliver (referenced below in the recipe), the mafia and me.
Ingredients (for a single serving)

2 tablespoons olive oil
Spaghetti (enough for what you call a single serving)
3-4 large button mushrooms
1 fat clove of garlic (use two if yours aren't fat)
¾ dried red Kashmiri chilli
(use chilli flakes otherwise)
Don't use the seeds if your spice threshold is low
A pinch of salt.
Small handful of chopped parsley (optional)
Method
Slice the garlic very very thin. Slice the chilli across its width into little rings.
Boil water in a kettle. Pour this into whatever vessel you cook your pasta in wait a moment till it comes to a rolling boil again. I use a heavy bottomed saucepan for this. Add a teaspoon of salt and drop the pasta into the water.

This is the best way to do so

. Set your timer for eight minutes (for standard store bought spaghetti, unless the packaging specifies otherwise).
Heat the olive oil in a skillet and drop the chillies and garlic in it (if you do this two minutes after you drop the spaghetti in, everything will be perfectly cooked by the time the spaghetti gets done). Sauté till the garlic starts to colour and your house smells of garlic.
Slice the mushrooms thin (you can start slicing when you drop the garlic into the oil). Drop them into the skillet and toss to evenly coat the mushrooms with the garlic infused oil. Let this cook until the mushrooms give off their water and cook. Season with salt.
Drain the pasta once it's ready and drop it directly into the skillet with the mushrooms, garlic and chilli. Stir with a spatula or toss if you have the wrist action for it, till evenly coated with oil.
Turn off the heat; if you have the parsley ready, this is when you'd toss it into the mix and serve.
Variations
Broccoli- Cut the broccoli down to their individual little heads (after washing thoroughly) and drop into the boiling water with the spaghetti. They'll cook together for exactly the same amount of time. Add the broccoli and spaghetti to the skillet together and saute till evenly coated with oil.
Asparagus- Same as above. Cut the stalks in little inch-long pieces. Cut the spears and sauté them with the mushrooms. These are more tender than the rest of the stalk and will respond better to a little hot oil and a skillet.
Chicken- (look away now, vegans and vegetarians) I usually cook the chicken separately (

like this, for example

) and add it to the spaghetti right at the end.