The average and sometime sub-par canteen and mess food of my college years often saw us venturing out to restaurants for a culinary break of sorts, where the dish that nearly everyone would most easily agree on ordering was Palak Paneer. When in doubt, order Palak Paneer.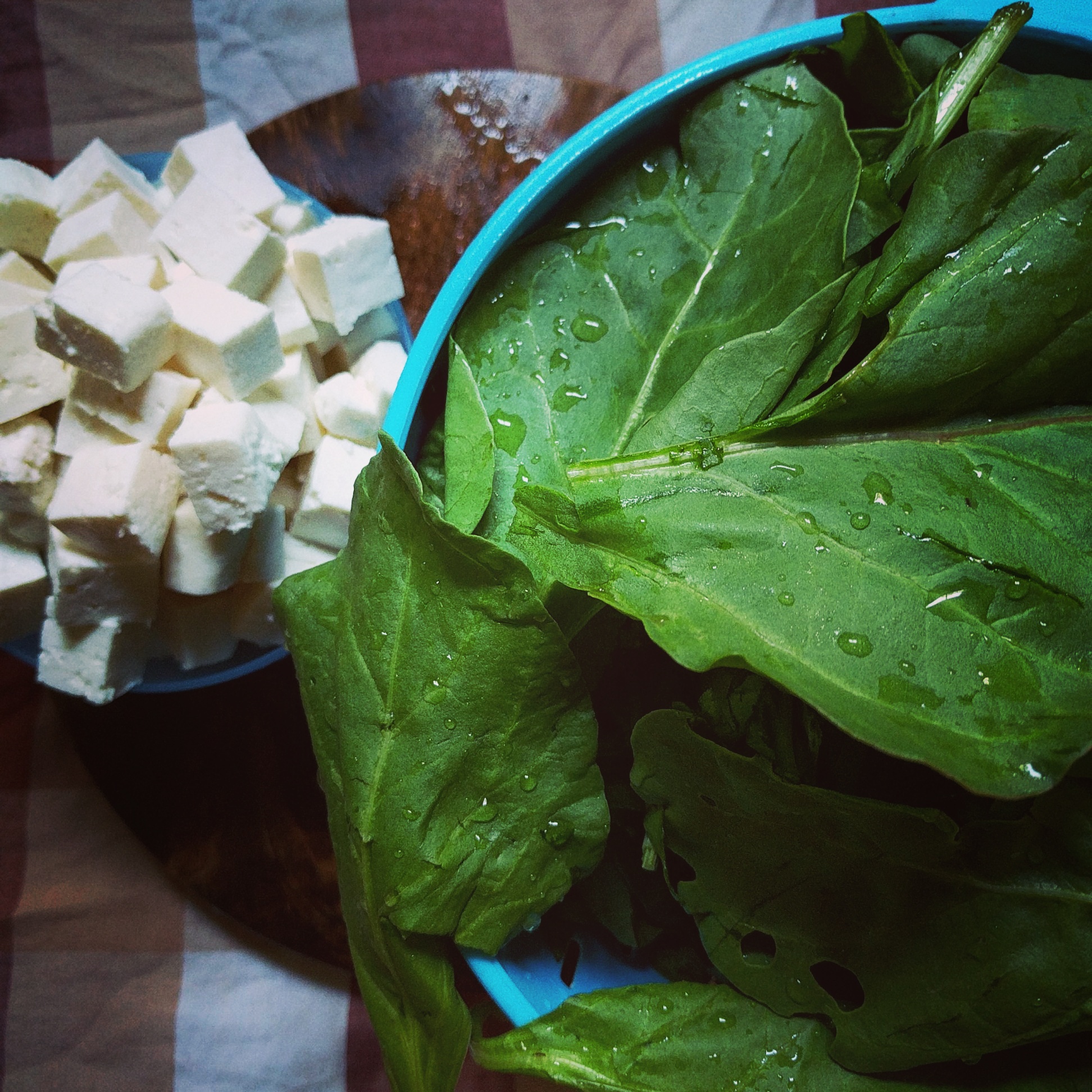 This lush green bi-chromatic (with the deep green of the spinach against little white islands of paneer within it) curry made it seem like it would take a little magic and much skill to put together accurately. Later, I would learn that the secret to the lush greenness of a well made Palak Paneer was all about carefully blanching the spinach for no longer than three minutes and then immediately dunking it in a bowl of ice and water to keep it from cooking any further. This is probably the only special technique that the recipe calls for, and does not require any special skill other than a very basic sort of hand-eye coordination to execute.
You can also experiment with your spice thresholds with this recipe, as it tends to be quite gentle on the palette even with large numbers of chillies (I used six chillies to 500g of spinach, and it didn't have the sort of vicious bite you'd expect it to have), so do make sure you try it out a couple of times to get it to your own heat tolerance level.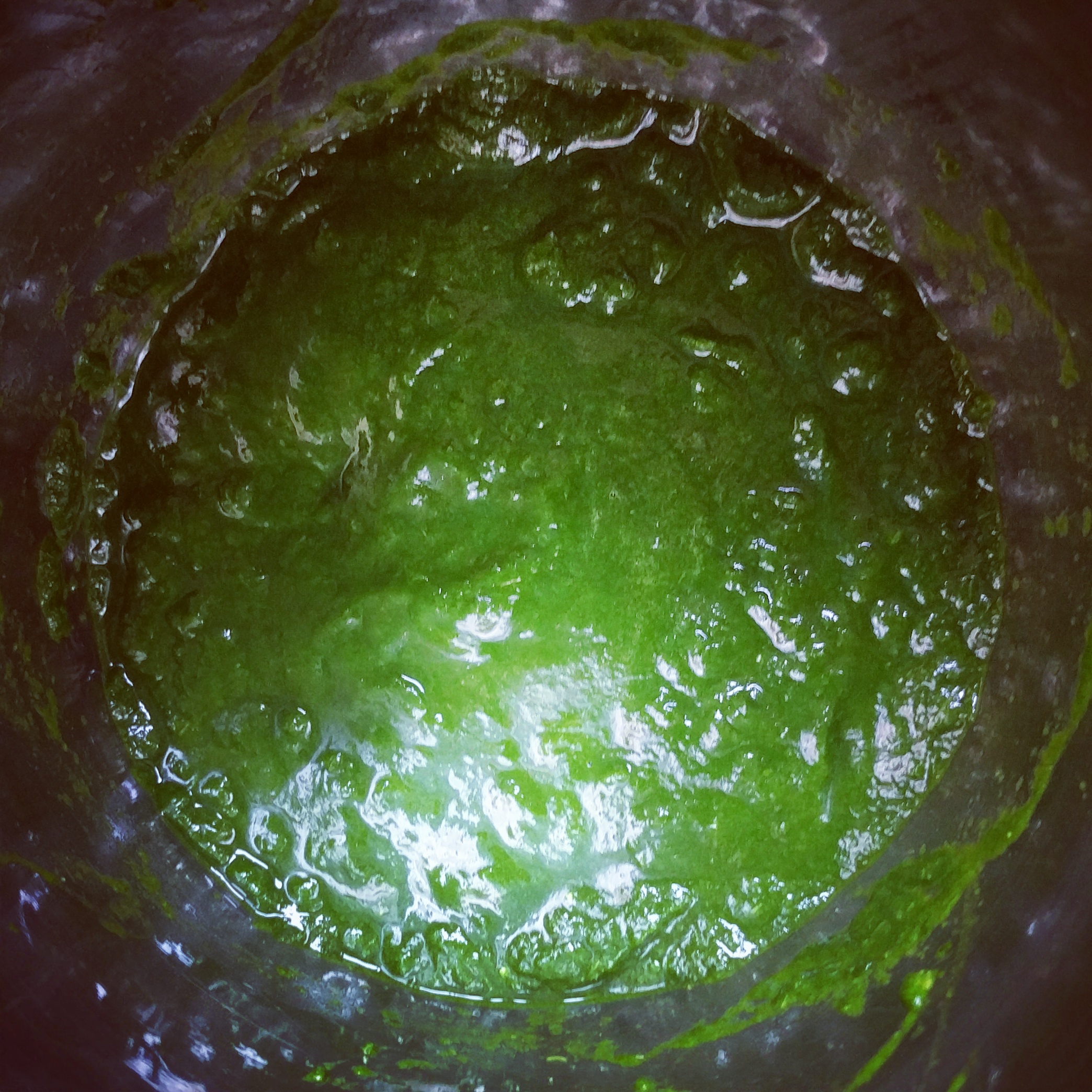 From a nutritional point of view, I assumed that spinach was richest in iron, but this apparently was not the case. Spinach also contains a large amount of oxalate, that bonds with iron to render it unabsorable by the human body. However, spinach is a great source of Vitamins A, C and K, which helps with the body's ability to clot and also bind calcium into bones (making them stronger). It can also be a great source of dietary fibre, but the puréeing process might destroy some of it. If you want to preserve the fibre for your diet, you could instead choose to finely chop the blanched spinach instead of blending it to a purée.
Be careful not to over-cook the curry though, as the heat would affect the colour (turning it to a more earthy shade of green and losing all its brightness eventually), flavour (losing its lush freshness) and nutritive value, as many of the nutrients in spinach tend to break down with exposure to heat.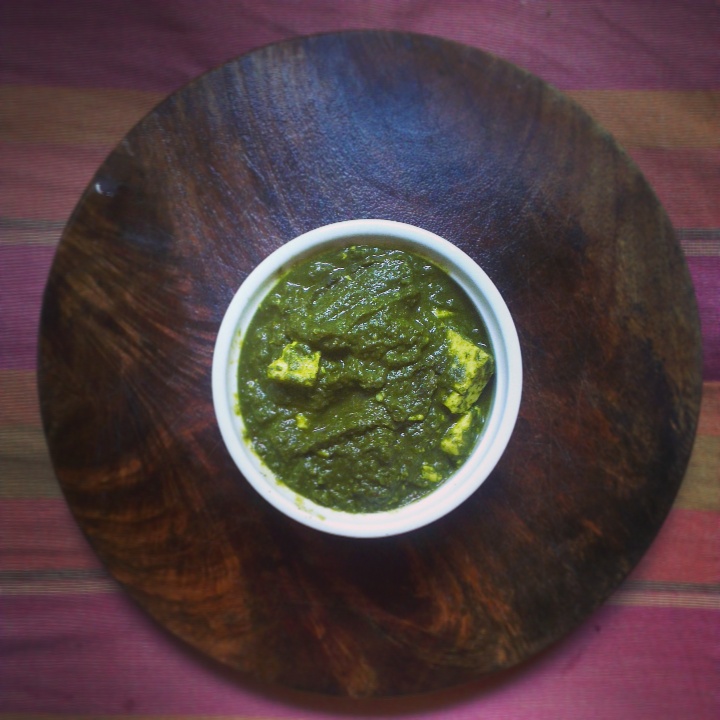 If you've ever been a fan of Palak Paneer (and I'm sure many of you might be), I would highly recommend giving this recipe a shot, even if you're not an ace in the kitchen (yet). The overall process doesn't take more than an hour, and as I mentioned before, you really don't need any special skills or experience to execute the recipe accurately. This is one of those dishes where you can quite practically cook with your eyes, keeping an eye on the shade of green, and making sure you keep the heat low, turning it off as soon as you start to see the green darken and lose its vibrancy.
The final step of the recipe involves swirling a little cream along the centre of the curry for its final presentation. I usually skip this step, but using cashew or almond paste (once you've soaked the almonds in hot water for a few hours and peeled their skins away) does make for a healthier substitute.
You could also create a vegan version by using tofu instead of paneer.
Ingredients
200g Cottage Cheese/ Paneer
250g Spinach
Large bowl with ice and water
3 green chillies
1 small stick of cinnamon
3 cloves
3 cardamom pods
½tsp cumin (whole)
1 large onion finely chopped
1 medium tomato chopped
2tsp coriander powder
1tsp cumin powder
½tsp garam masala
1tbsp ginger garlic paste
2-3tbsp cooking oil/ghee
10g cashews/almonds/fresh cream
Salt to taste
Method
Cut the paneer into neat little cubes (around 15mm works best) and sauté in a hot pan with a little oil.
Wash and soak the spinach for a few hours and then blanch them by dropping them in a pot of boiling water for around 2-3 minutes. Transfer the spinach to the bowl with the ice water right away to stop the cooking process.
Purée the spinach with the green chillies in a blender and set aside.
Sauté the whole cumin seeds, cinnamon, cloves and cardamom pods (tear these open a little so the seeds can spill out while cooking) in cooking oil till they sizzle and fill the kitchen with the aroma of spices.
Add the onions and cook till they just start to brown.
Add ginger garlic paste and fry till cooked.
Add the coriander, cumin and garam masala powders and cook till you see oil splitting away from the mix. Careful not to burn the onions and spices during this step.
Add the tomatoes and cook till their rawness is gone.
Now add the spinach-chilli purée and mix evenly.
Add the paneer and mix. Cook for around 5-10 minutes.
Keep an eye on the colour of the spinach, if it starts to brown, it might be getting overcooked and is best to turn the flame/hob off right away.
Serve with rice, roti or naans.